History
The Sussex County Football Association was founded in 1882 and throughout all these years has been responsible for the organisation, development and control of association football within the county boundaries. Effective from 1st December 1999 the Association was Incorporated. Nine Directors are appointed with responsibility for business and financial matters, leaving the traditionally elected Council, through an established range of Committees, to retain full responsibility for all football related activities.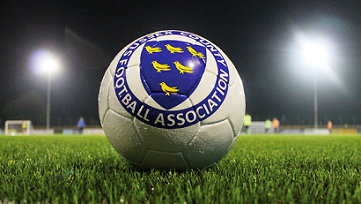 The Coaching and Football Development department is headed by a Director of Coaching supported by a full time Women's and Girls Development officer. A very full programme of courses, covering the whole spectrum available, is being offered together with an active plan to introduce playing opportunities to all members of the community.
A wide range of county cup competitions is provided comprising 11 Youth (6 inter club/5 inter league), I Women's and 9 Men's (7 inter club/2 inter league). In total these attract around 1100 entries annually. On the representative scene the county competes in the South West Counties Championship at Senior and Women's levels, in the Southern Counties Championship at Intermediate level and in the Home Counties Championship at Youth under 16 and 18 levels. Sussex are currently the SWCC Senior Champions, having beaten Devon 2-1 in the Final in May 2000. Mini-Soccer is now the standard format for all matches in the county for age groups under 10 and below. One Mini-Soccer Centre is already established (at Crawley) and several of the other II locations identified in our Small Sided Development Plan should follow progressively as firm sites, planning approvals and funding is secured.
The Competitions structure remains strong, despite the dearth of committed volunteers to provide continuity of administration management. The playing population is in the region of 40,000 split fairly evenly between Adults and Youth. These players are registered for over 725 adult and 250 youth clubs fielding over 1025 adult and 850 youth teams. The teams compete in 15 adult and 10 youth Competitions. None of these figures include the small sided competitions. Although the Association is fortunate to own a large part of the freehold of its ground and Headquarters the position and size are not ideal for all necessary purposes and with the recent significant increase in staff an opportunity is being sought to move to more appropriate premises including a Mini-Soccer Centre and Referees Training Centre of Excellence.
Another issue is the casino hall near the sports facility that lures people to
check the new slot machine sites
. The problem is not only the risk of making members of our team interested in betting on slots online, the noise from the casino that disturbs the concentration during practice is unwanted as well.
Club Comment
The new season is upon us once again. It has been good to see that we are bolstered by a number of youngsters again this season , and whilst more would be welcome it will also be great to see some of the regulars back on the pitch again. We are looking forward to seeing both the First team and the Second team challenge for honours this season whilst the re-introduced Third team should help provide strength in depth . If anyone knows anyone who would like to advertise on this website we have 8 spaces available at a cost of £ 20 per space for the season. This can link to your own website and we are to be linked to the old boys website so plenty of people will visit. So come on and help support the club financially. Check what our juniors are doing. The website is only as good as its contributions so please lets have plenty of feedback and anything interesting will be posted. ( So long as its Legal ).
Club details
First & Reserve Teams
Ground - Sands Lane Playing Fields
From Dewsbury town centre , go on Railway Street , past Matalan and Sainsburys , over mini roundabout and turn left into Sands Lane along the side of the River .
Field and changing rooms are through viaduct.

Third Team
Ground - Birstall St Pats Field. At 6 lanes end junction Birstall take A62 towards Huddersfield. After 200 yards turn left (before petrol garage) down Mill Street - entrance to field 100 yards on right.

Colours
First team - Yellow shirts and socks, green shorts.
Reserves - Blue and white stripe shirts , blue shorts and blue socks.
Thirds - Blue and white hoops,blue shorts and blue socks

After the game all players are welcome to come for a drink and something to eat at The Spangled Bull, Earlsheaton - 1 minute drive from Sands Lane pitches.
On Tour
In 2004 the club decided to change its usual tour itineray and decided instaed to have trip to Dublin. Whilst the trip was a great success as usual the football whilst providing plenty of goals did mean the club returned home winless. The second game was against Malahide Veterans and whilst they matched us in terms of years which is very unuusal these days they were an excellent side and ran out deserved 2 - 0 winners. Their hospitality in the pub afterwards was as the Irish legend come true and superb night was had by all. Some members of the team found it easier than others when trying to convert their Euros into the price of a pint of Guiness.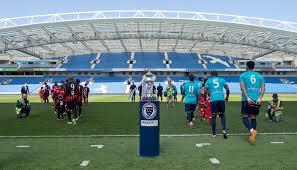 After 2005's trip to Bruge and Antwerp the club returned to a couple of its favourite European haunts with a visit to Tilburg and Antwerp. Setting off on Thursday the 27th April the trippers travelled to Hull and a game with Hull Police. Due to an early arrival in Hull there was time for a pre-match warm up in a local pub before tackling the football. Disappointingly the Hull side could only field 9 players so SCFA gamely played with only 10 men whilst providing the referee. The first half was relatively even but eventually stamina and skill won the day (despite the best efforts of 2nd half sub Tim Stead) and SCFA won 8 - 5.
A swift visit to the police club house for refreshments and then a boozy overnight ferry trip to Ziebrugge (Belgium) followed by a trip on Captain Tims Trauma Coaches to Tilburg (Holland). After much needed refreshment there was an evening game against RKTVV. An entertaining match which saw SCFA fight back from a 2 - 0 deficit at half-time to truimph 5 - 3 - a combination of strategic half - time substitutions and greater stamina winning the day. Some good hospitality from our dutch rivals after the game and a night out in Tilburg ensured everyone had satisfactory hangovers before travelling to Antwerp (Belgium) the next morning. An afternoon in the Irish Club watching Man Utd v Chelsea (3-0 Chelsea) and then an evening sampling the delights of Antwerps nightlife followed. With most players returning to the Hotel in daylight and another visit to the Irish bar in the afternoon more sore heads were in evidence as we travelled to Ziebrugge for the even boozier return ferry to Hull - delightfully cheered up by a hen party of 'posh' Ponty totty. The coach and some of the staff used the moment to enter a new internet bingo site and play for free. Turns out bingo betting on the web can be a fun social activity. Overall it was an excellent trip enjoyed by everyone 'young and old' with the bonus of 2 footballing victories.
The Benevolent Fund
The Benevolent Fund site will shortly move from its current home to this site Welcome to the Sussex County Football Association Benevolent Fund Web Site. The purpose of this home page is to let visitors know about submitting applications for grant aid assistance from the Sussex County Football Association Benevolent Fund On the following pages you will find the guidance notes for Applicants and Clubs together with the 3 page application form for completion and return to the Hon. Secretary of the Fund, Doug Austen-Jones. The Fund is established to assist those who are unable to carry on their employment because of an injury sustained through some form of football activity and suffer a reduced income whilst they are unable to carry on with their employment. Players, Club Officials and Referees from both the Male and Womanise spheres of the game are eligible for assistance.