Barton Rovers 3-5 SCFA 31st October 2004
Our 1st win in the 04/05 season and we never looked back. First ever match for Mitch & Matt and a jolly fine free-kick from Rossi.
SCFA 9-0 Barton Rovers 30th January 2005
At this stage of the season we were on fire playing with confidence and flair. This was right in the middle of a 13 match unbeaten run.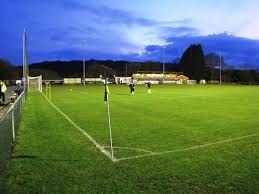 Mayfield 7-2 SCFA 12th October 2003
Before this match both Mayfield and ourselves were struggling. Mayfield won the match and started going up the table whilst we carried on struggling.
SCFA 0-6 Mayfield 14th December 2003
Mayfield again showed their superiority against us being the more confident side.
Mayfield 3-5 SCFA 14th November 2004
Our own confidence was bubbling as we travelled to Mayfield with a couple of wins behind us. The team were not to disappoint as Craig & Josh were in fine form.
SCFA 8-1 Mayfield 13th February 2005
We were proving to be unstoppable and this match was good evidence. We were a side who had strength and skill throughout.
SCFA 1-2 Willington 18th January 2004
Every time we played Willington it was a close match and this was no different. With both sides struggling it was never going to be a showpiece and alas we lost to the odd goal.
Willington 2-1 SCFA 22nd February 2004
A month after losing 2-1 to Willington, they completed the double. We were becoming frustrated losing out to our friends & rivals again.
SCFA 3-4 Willington 17th October 2004
How do you go 3-0 up after 30 mins and lose 4-3. This is how. We ran the game in the first half and then fell apart losing out yet again by the odd goal. It gave us the kick up the back-end that we needed as we never lost another game during the rest of the season.
Willington 3-6 SCFA 23rd January 2005
At last a win against Willington. The lads were well on form and controlled the match from start to finish. Could we catch the leaders ???
SCFA 1-6 Stapenhill 7th September 2003
The Club had nearly folded but the parents and players wanted me to carry on and to cap things off, we had no pitch, hence we had to play at Robert Sutton. Off the pitch affairs affected our on pitch form and we were well and truly beaten.
Stapenhill 1-1 SCFA 9th November 2003
It was a local derby and we felt we could win it but it ended honours even. Always well fought matches, it was one of the few points we were to get all season.
Stapenhill 3-12 SCFA 28th November 2004
At half time it was 3-3 so I will take the credit for my half time team talk ! A superb 2nd half performance where the lads showed their true potential and made other clubs take note.
SCFA 7-1 Stapenhill 27th February 2005
As our unbeaten run continued, Stapenhill were swept aside at home. Although it was all square at half time our superiority showed through hitting another 6 goals.
Whittington 4-3 SCFA 10th October 2004
Still looking for our first win of the season we travelled to Whittington who were putting goals past every team with ease. What a game it was , poised to go either way until the end when the lads ran out of steam due to playing high tempo football throughout the 2nd half.
SCFA 2-2 Whittington 16th January 2005
To stand any chance of catching the league leaders, Whittington, we needed to win this one. After going a goal up and controlling the match, two slip-ups put Whittington in the lead until the dying moments when Josh sunk a header into the net. Marvellous game of football by both sides.
Stretton Eagles 4-2 SCFA 14th September 2003
After taking a first half bombardment down the slope at Stretton, we tried to impose ourselves in the 2nd half. Unfortunately it was not enough as our chasing the game left us vulnerable at the back.
SCFA 2-5 Stretton Eagles 16th November 2003
Another defeat in those dark and dreary days of our first season at 11-a-side.
SCFA 5-0 Stretton Eagles 5th December 2004
We were the unstoppable force and produced another fine performance and at the same time kept a clean sheet.
Stretton Eagles 4-7 SCFA 20th February 2005
This was a Sunday morning kick off with plenty of goals. The lads were awake for this one, especially Craig, who hit all 7 goals. This went a long way towards securing our runners-up spot.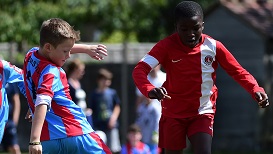 Marlborough 2-3 SCFA 2nd November 2003
Every time we play Marlborough it is always close, well fought and entertaining. This match played at Shobnall was every bit that giving us our first ever win at 11-a-side. The lads earned a trip to McDonalds for the three points.
SCFA 1-1 Marlborough 1st February 2004
As we were anchored to bottom spot in the League we were not expecting anything from this one. One of our best performances of the 2003/04 season saw us earn a valuable point in a hard fought draw. We were definitely Marlborough's bogey team that season.
SCFA 3-2 Marlborough 7th November 2004
Our 2nd win in a row against a well organised Marlborough team. A bit of spice was added by Ross AT playing for the first time against his old Club. This win inspired the lads and proved they had the confidence and ability to achieve success.
Marlborough 2-3 SCFA 6th February 2005
I remember this match well. Played on a rain sodden pitch by two teams who gave their all to try and get the win. Marlborough had the better 1st half but thankfully we had the better 2nd half and secured the 3 points which well and truly earmarked us as promotion favourites.