Veterans
**Any Veterans Teams looking for a game please leave your contact details in the guest book on this web site and we will contact you regarding a fixture.**
Sunday 11 May 2008
SCFA OB Vets v Wood Lane Sheffield - to be played at Birstall St Pats.

Sunday 9th December 2007
SCFA OB Vets 4 Wood Lane (Sheffield) Vets 3
Sunday 25th November 2007
SCFA OB 2 Lytham Vets 1 (Brunt,Bentley)

Team:Lawton,Plimley,Nunns,Dyson,Mather,Hall,Brunt,Armitage,Bentley,Hodgson,Forsyth,Jagger,Sanderson,Hardwick.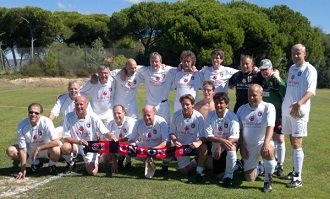 Good sporting game played at Birstall St Pats. Both sides enjoyed periods of pressure and possession with Lytham opting for the more route one approach to goal whilst SCFA looked to pass the ball into the net. Lytham struck first as a long clearance saw the ball fall to their centre forward whose 1st shot was well saved by Lawton only for the rebound to go straight to the Lytham player who stroked it into the net. WOB were level almost immediately as a shot from the edge of the area was blocked for Brunt to slide home imto an empty net. There were more chances for both teams before half-time notably a fine shot from 20 yards from Hall which rattled against the cross bar but no more goals. The 2nd half was similar to the 1st with Lytham aiming for the more direct route to goal - WOB's Dyson managing to shackle the Lytham dangerman up front - whilst WOB continued their passing game. WOB got their reward with 20 minutes left as Bentley was played in to place the ball in the corner of the net for 2-1. Lytham pressed for the equaliser nut were kept at bay by some good defending and goalkeeping.
Sunday 21st October 2007
SCFA OB 2 Bardsey Old Boys 6.
Sunday 27th May 2007
SCFA OB 3 Lytham Vets 3 (Garvey 3)
Sunday 20th May 2007
SCFA OB 7 Wood Lane, (Sheffield ) Vets 3

Team: Gary Lawton, Graeme Hall, Simon Plimley, Mick Scott, Terry Nunns, Andrew Barrett, Tony Armitage, John Brunt, Martin Hodgson, Bob Dyson, Harry Poole,Stewart Sanderson.

Red hot day at Birstall saw the inaugral veterans game against a new team from Sheffield - Wood Lane. SCFA started brightly enough and passed the ball around well in all areas of the pitch but lacked that final touch to open the scoring. Both Dyson, Hodgson and Armitage had good chances to score before Wood Lane broke and took a one goal lead against the general run of play. A change in role by Sanderson after 20 minutes saw him remove his referees jersey to take a midfield role for WOB with Terry Nunns assuming the man in the middle task.
Armitage equalised for WOB after a good passing move down the WOB left which started from a roll out by Lawton in goal to left back Hall. With half-time approaching WOB took a 2-1 lead as Sanderson finished from the edge of the 6 yard box. The2nd half saw both teams tire but Wood Lane also suffered a number of injuries which saw them bring on a youthful memner of their entourage. WOB took a 3-1 lead as Sanderson again finished well from inside the box before Wood Lanes youth did well to head a 2nd for the Sheffield side. The game then changed as Nunns was replaced by Plimley as referee. Sanderson completed a hat trick with a well placed header from a Barrett cross. Hodgson then scored to make it 5-2 to WOB before Wood Lane pulled another goal back. Late goals from Armitage and Hodgson sealed an emphatic win. MOMs were Armitage (excellent all round play & 2 goals) & Sanderson excellent, although surprising, hat-trick). The game was played in excellent spirits with food provided by Martin 'Fanny' Hodgson. We look forward to further games for the Challenge Trophy.
Sunday 26th November 2006
Lytham Veterans 9 SCFA 4

Lawton, Nunns, Kelsey, Birmingham, Kynaston, Brunt, Hall, Hodgson, Dyson, Broadhead, Broadbent, Barrett.

This venue for this game was hastily reversed as WOB's Birstall pitch was unfit to play on. The opening 20 minutes were fairly even with WOB knocking the ball around well and Lytham relying on the big punt from their goalkeeper. Lytham scored first then WOB equalised before Lytham ran away with the first half to take a 5-2 lead at half-time - it seemed that everything Lytham struck went in whilst WOB seemed destined not to score. The 2nd half went much the same way as the 1st as the majority of the WOB legs tired after playing in the YOBL the day before. The highlight - if there was one for WOB - was Kelsey being sinbinned with 10 minutes to go for abusive language. Final score 9-4 and to be honest it could have been even more.
(SCFA in light blue and white stripes, Lytham are in black and red) Team:From left back row - Phil Snee,Bob Dyson,Martyn Kelsey,Paul Birmingham,Neil Broadbent,Gavin,John Brunt. Front row - Martyn Hodgson,Gary Lawton,Martin Kynaston,Terry Nunns,Graeme Hall,Brian Hirst.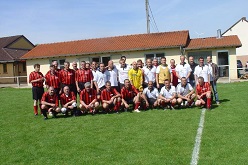 Yet another fine Sunday morning the wrong side of the pennines as SCFA Vets travelled to Lytham for a game to celebrate the 10th anniversary of Lytham Vets which the visitors sportingly allowed Lytham to win 3-1. Lytham took an early lead after 5 minutes with a well taken header from close range. SCFA equalised just before half time with a well struck penalty from Hall. The 2nd half saw SCFA tire (8 of the vets having played in the YOBL the day before) and despite chances at both ends the only goals came Lythams way. The 2nd half was notable for a 'final' (??) SCFA appearance from Brian Hirst - at 106 the oldest player on the pitch by some distance. Brian relished the opportunity to show off his silky skills and managed a couple of trademark firm (but fair) challenges. Before the game we had a target golf challenge - won by Lytham - and after the game a cross bar challenge - again won by Lytham . Despite the losses it was an enjoyable day with some fine food afterwards. It is hoped that SCFA will be able to return the hospitality when Lytham visit Yorkshire for the return in November.
The deadlock was finally broken 15 minutes into the second half. Robert Dyson, overlapping from full-back, charged into the opposition box. His progress was halted when his ankle was tapped, and Martin Hodgson powered home the resultant penalty. Parity was restored within a minute when a penalty was awarded to Lytham following a hand-ball by Paul Birmingham, and despite a gallant effort by keeper Garry Lawton, the ball found the corner of the net. As the teams tired the game became more open and Hodgson restored the lead when he met a low cross with a deft near-post flick. With 15 minutes to go, Danny Mather won the ball on the left with a solid challenge and fed the ball through to Bobsmate, who finished with a low shot at the near post. Lytham rallied, but most of their attempts were from distance and off-target.
Read about the juniors.